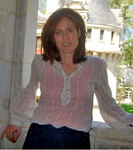 Valerie F. Schweitzer AIA and her team construct inventive spaces that deepen a sense of place.  Schweitzer explores specifically the overlap of art and architecture. With an emphasis on integration and sustainability, her designs communicate a central purpose.  That purpose, born from programmatic needs and context, might be the transporting dimension of an artists's studio or the playfulness of a Los Angeles multi-family mid-rise.  Her award-winning work, anchored by site-specific conditions, attempts the shoring up of the human spirit.
With her additional training as a painter, Schweitzer and her team  collaborate fully with each client to integrate color, lighting  and landscape into a synchronized assemblage.  She works closely with and learns from all subcontractors and consultants. Schweitzer specializes in place-making that aims to uplift entire neighborhoods.
Formerly at SOM, Ferguson Shamamian, and Gruzen Sampton, Valerie established in 2010 her own practice, based in New York City . Her unusual LEED Gold design of The Tides Brentwood in 2017 has been featured on global design sites such as e-architect.com  and print publication by Loft publishing in Barcelona is pending.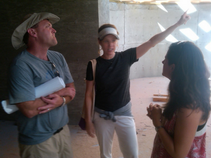 In 2008, Schweitzer was the youngest female solo-practitioner to have her design, Butterfly studio, selected by Architectural Digest's Paige Rense, as a winner of their Open Auditions.  The structure recently received a Master Architecture Prize, 2017.
Schweitzer studied political philosophy and architecture at Princeton University, where she received the Class of 1869 Prize in Ethics and the Alexander Guthrie McCosh Prize.  Schweitzer received her Masters of Architecture from UCLA  and was awarded high distinction for her thesis.  Her work has been exhibited at UCLA's RUMBLE exhibit. She is registered in both New York State and Connecticut, holds an NCARB record, and is a member of the AIA.
"Happiness comes out of every angle" — Alain de Botton describing V. F. Schweitzer's Butterfly Studio