ROOTS, Hurricane Maria memorial, NYC, 2019
VSA made it to the "interview round" for our submission to the New York city competition, the Hurricane Maria memorial, in Battery Park. We were interviewed on Nov 22, 2019 by the NYC commision's art consultant. We honor the victims of Hurricane Maria with our piece,  ROOTS, that aims to tell a story of the vibrant community of Puerto Rico. Our  concept is based on the arching roots of the giant kapok, the national tree of Puerto Rico. We designed vaulting arches to create a unique place of contemplation: these arches also create portals to overlook the bordering harbor on one side, and high rises to the other. The vibrancy of the contrasting granite and copper speaks to the energy that the Puerto Rican community has added to  New York City since as far as back as its first settlers in the 1850s. The symbolism of the roots, at once bare but regenerating, gives hope to the victims' families.  Mural within proposed by Cesar Vivero. Design Lead: Valerie Schweitzer. With Hacken Li.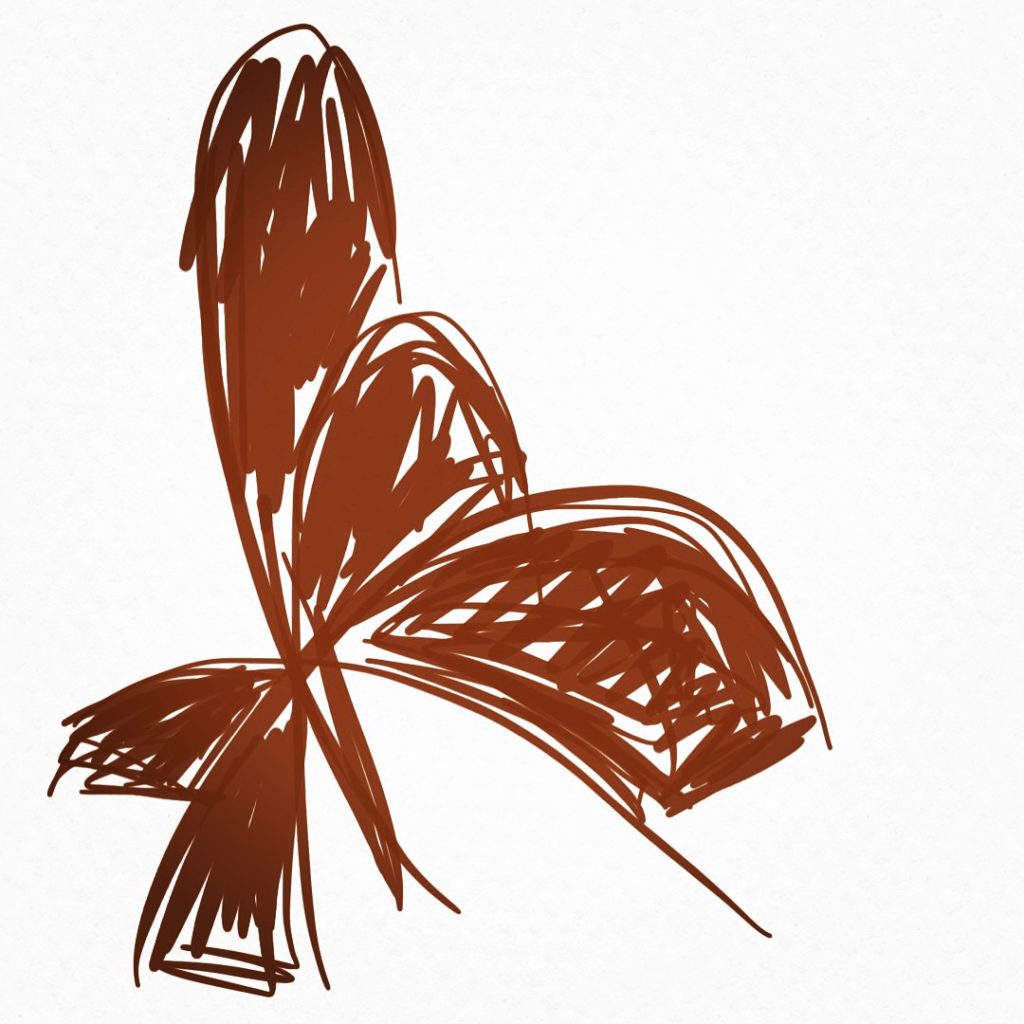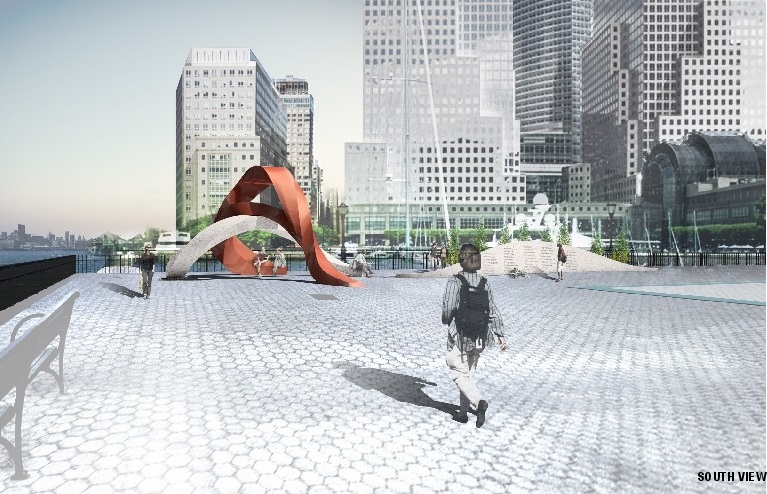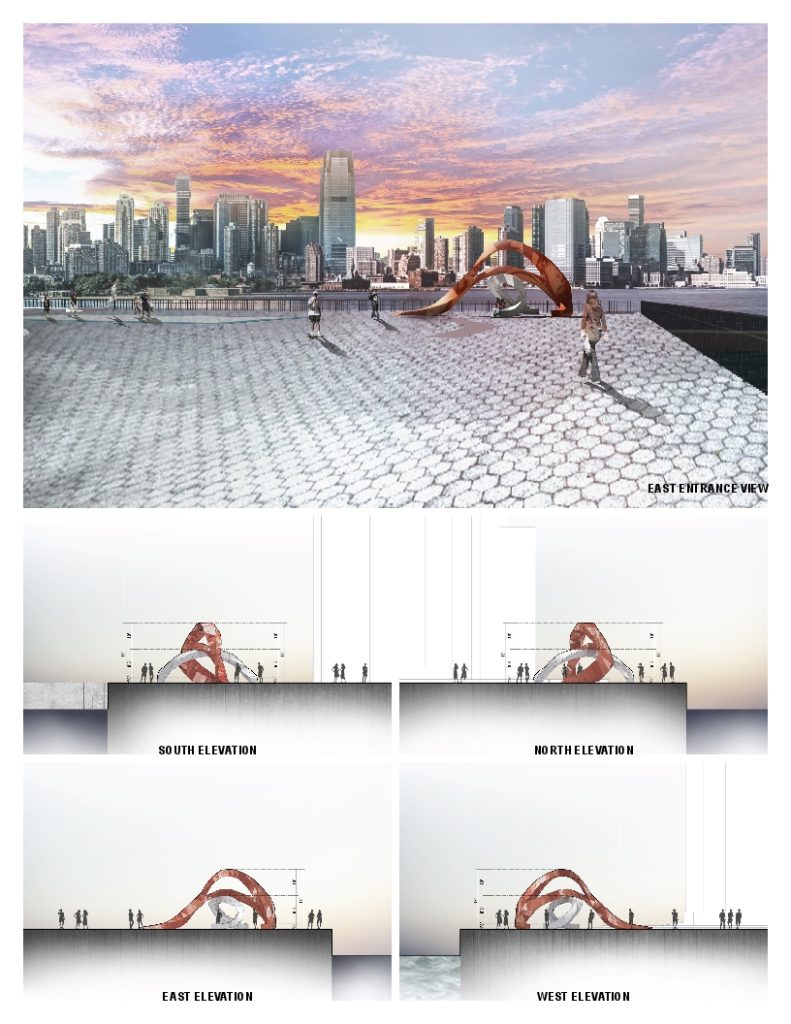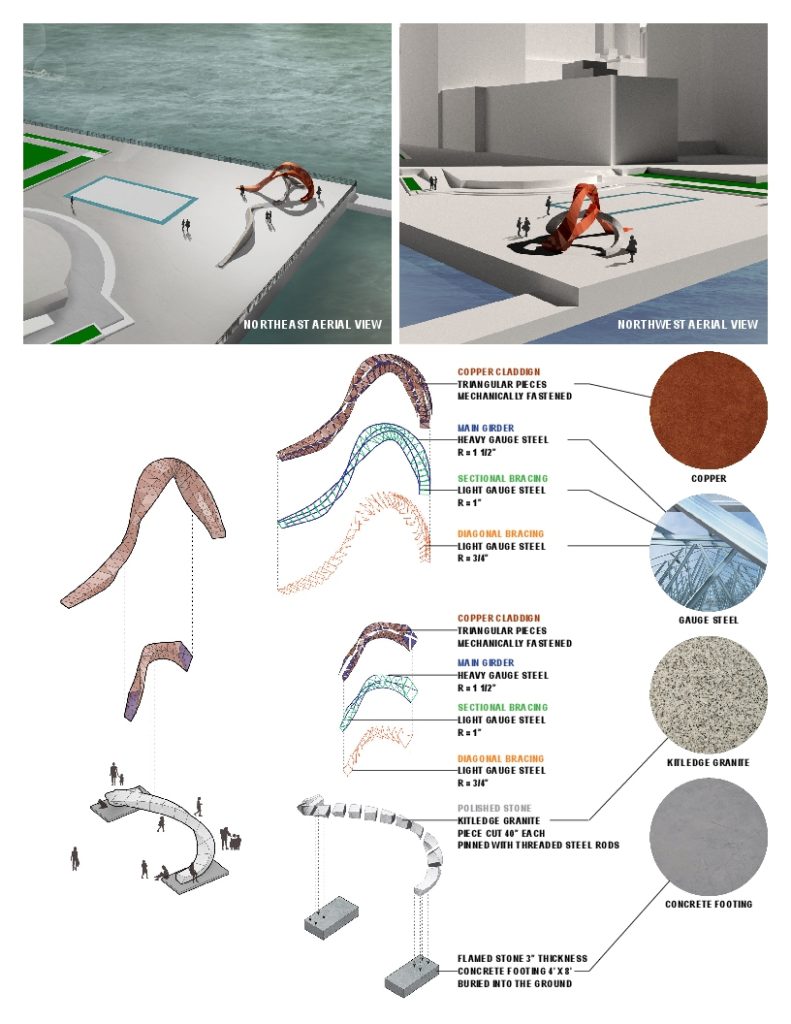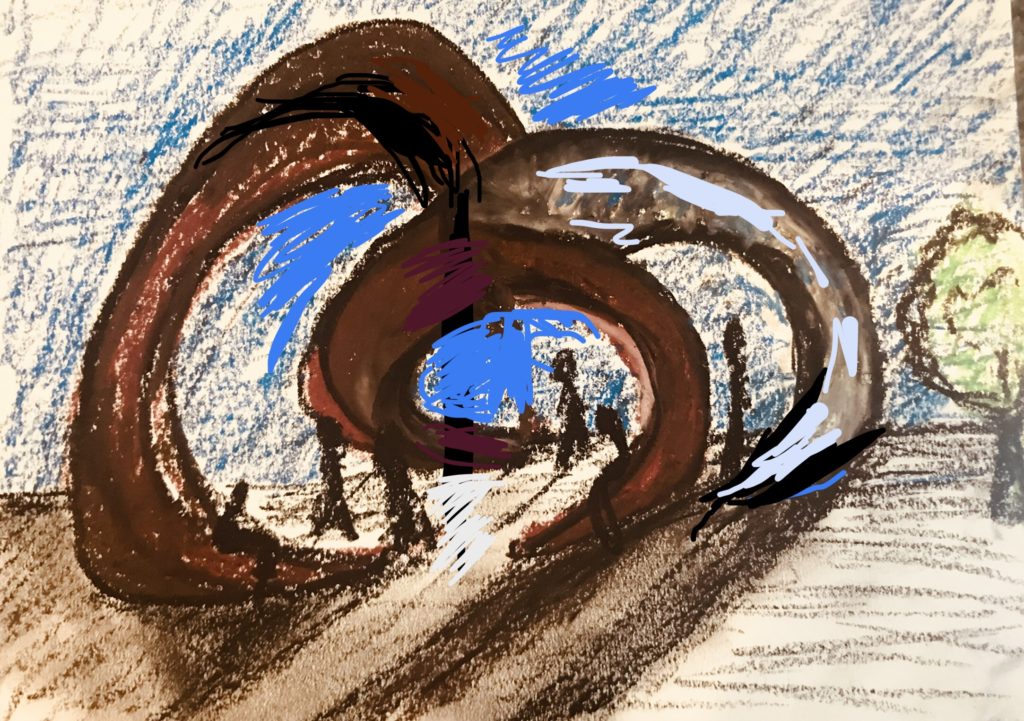 folly/function 2019 entry proposal, 2019
sponsored by the Architectural League and Socrates Sculpture Park.
jam session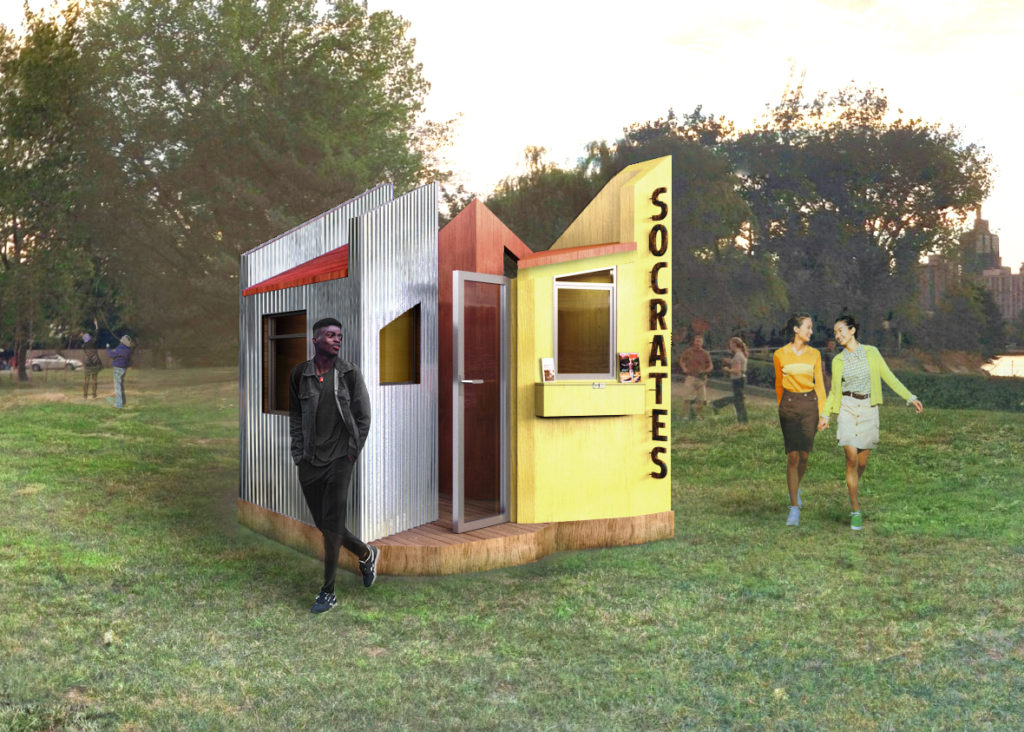 Assigned to design a kiosk for the urban park in Long Island City, we chose to link our structure to the jazz greats of the Astoria area. Due to its sculptural expression and raw materials, jam session announces Socrates Sculpture Park in Queens, NYC, as a locus for artistic expression. Its palette of industrial materials, that includes corrugated aluminum and weathered steel, heightens our awareness of the park's industrial context. The jagged lines and panels of vibrant colors recalls the syncopated rhythms of jazz greats who once called Queens their home. This improvisational quality of jazz is congruent with a site that was once a landfill: making something of pleasure from unexpected elements. The kiosk is designed to be prefabricated, broken into several easy to manage sections, and reassembled on site. It is a functional "folly".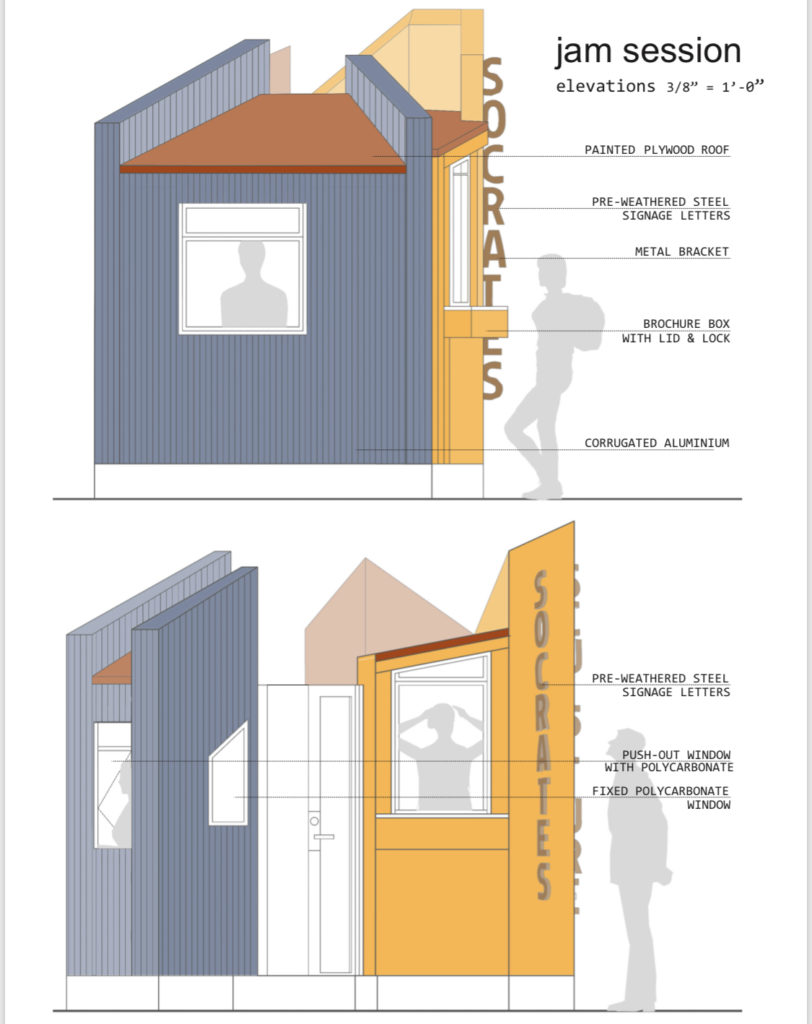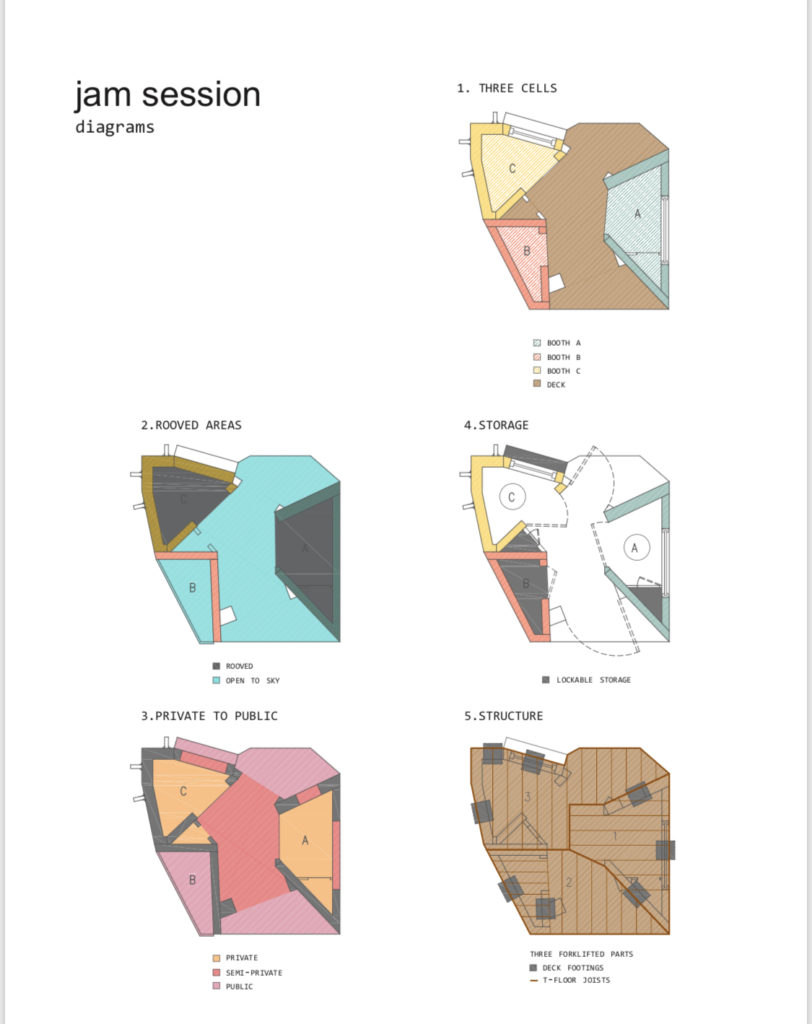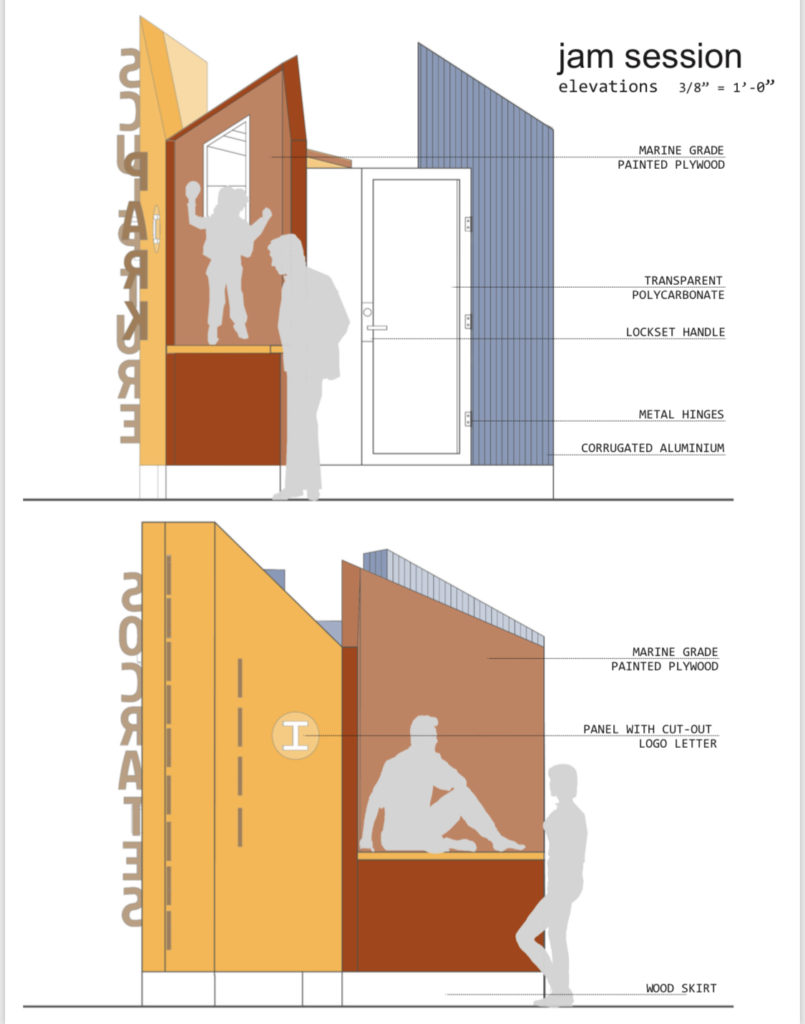 2018
pangolin pavilion
citation by Archasm, Wildlife Pavilion Competition, Kenya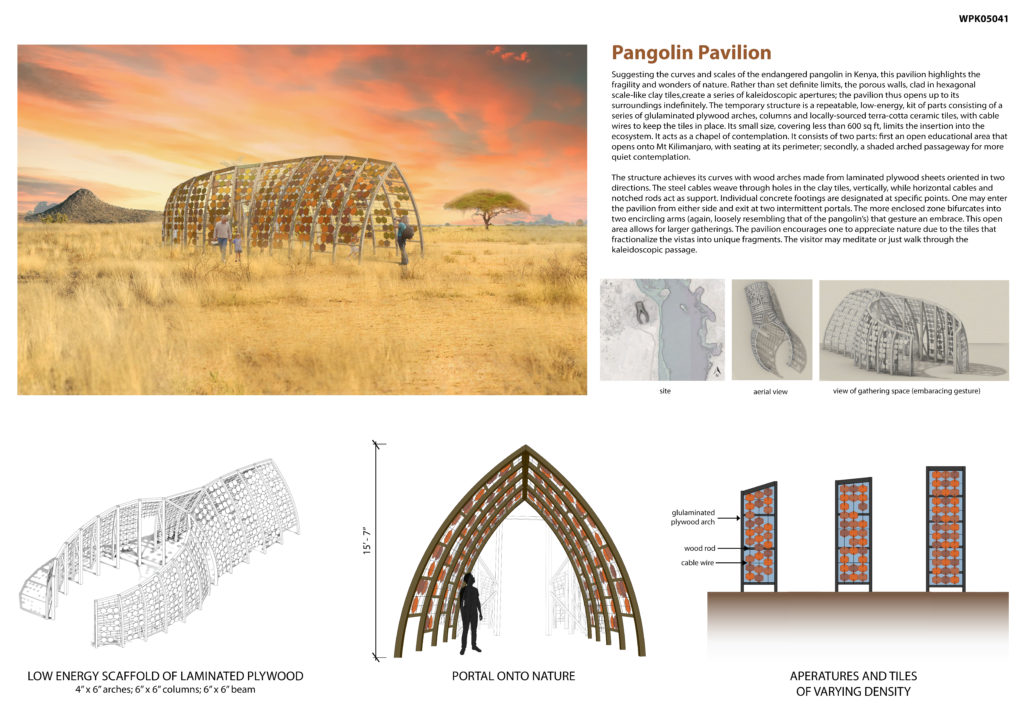 embrace me tree pavilion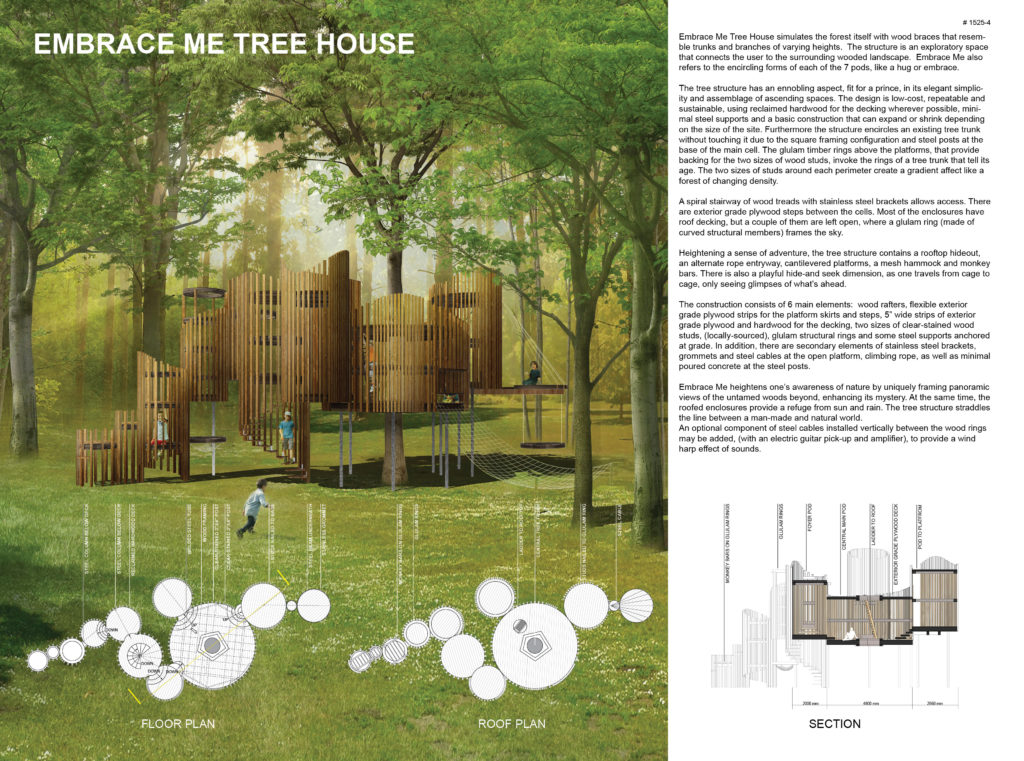 Note: this competition was voided by Arch Triumph. The tree house pavilion, however, has been commissioned by a private client in the East End of Long Island. The pavilion will include a netted dining area, to function like a screened-in porch with new and salvaged wood. It introduces a new typology of sustainable and habitable folly that draws people closer to nature.
2015
un-umbrellas
A shade structure and rain collector for the garden of a wellness center.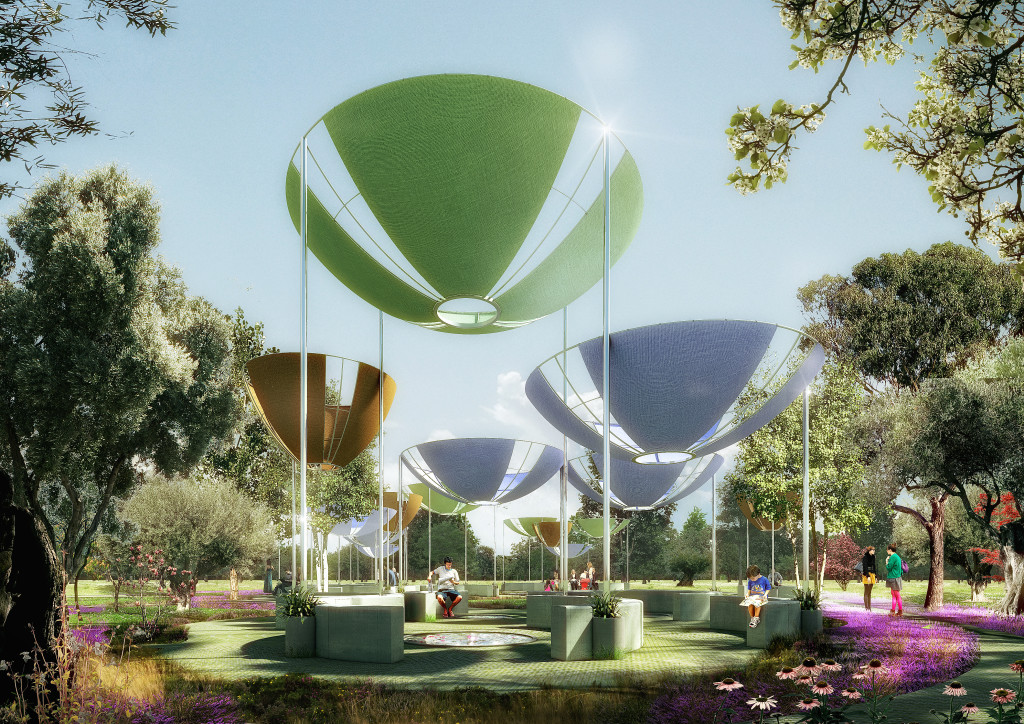 We propose clusters of fabric structures to create shade and collect rainwater into reflecting pools at the center of each pod. They are made with a basic aluminum frame, 3″ diamter aluminum poles, and Sunbrella fabric.
Inspired in part by animals that live and hang from trees, as well as their habitats. Three types of canopies vary in height, radius, and color, to create kinetic spaces beneath for healing cancer patients. The goal was to use fabric in a unique and architectural way–here the structures protect  from harsh sun light, while collecting rain water. The structures also loosely resemble flowers at various stages of opening and closing away from the sun.
chasm lighthouse
A lighthouse archetype re-imagined as a memorial to the Concordia victims
Chasm lighthouse, on Giglio Island in Italy, esplores the edge of solidity and transparence, darkness and light,while memorializing the Concorida shipwreck. The lighthouse is a contemporary reimagining of an ancient nautical form, which reveal the porous bordres between land and sea. The sculptural monument is meant to pay tribute to the 32 lives lost at the site, and contains an information center about the shipwreck. Visitors weave in and out of darkness on an upward reflective journey, due to the two widening "cracks" in the walls. By Valerie Schweitzer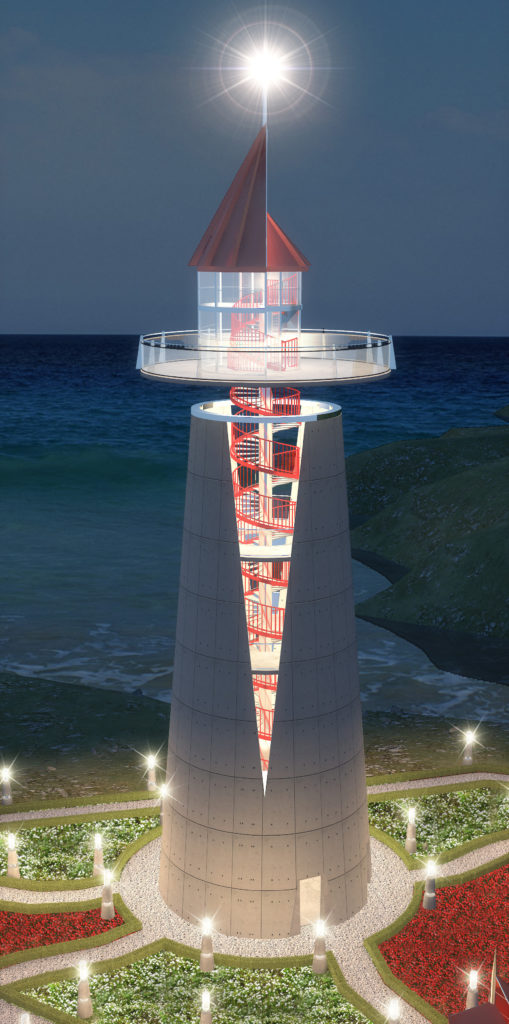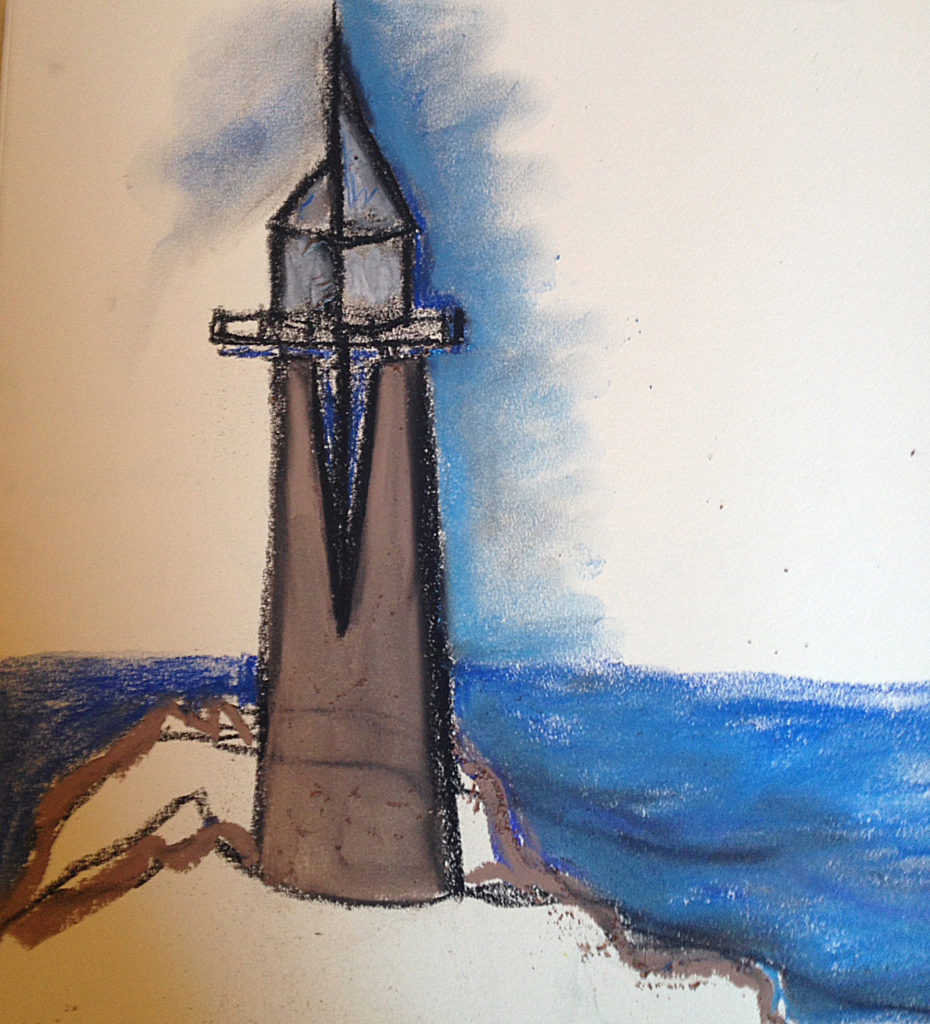 2016  Holocaust memorial bologna
"A Passage from Barbs to Souls"  by Valerie Schweitzer AIA (2015)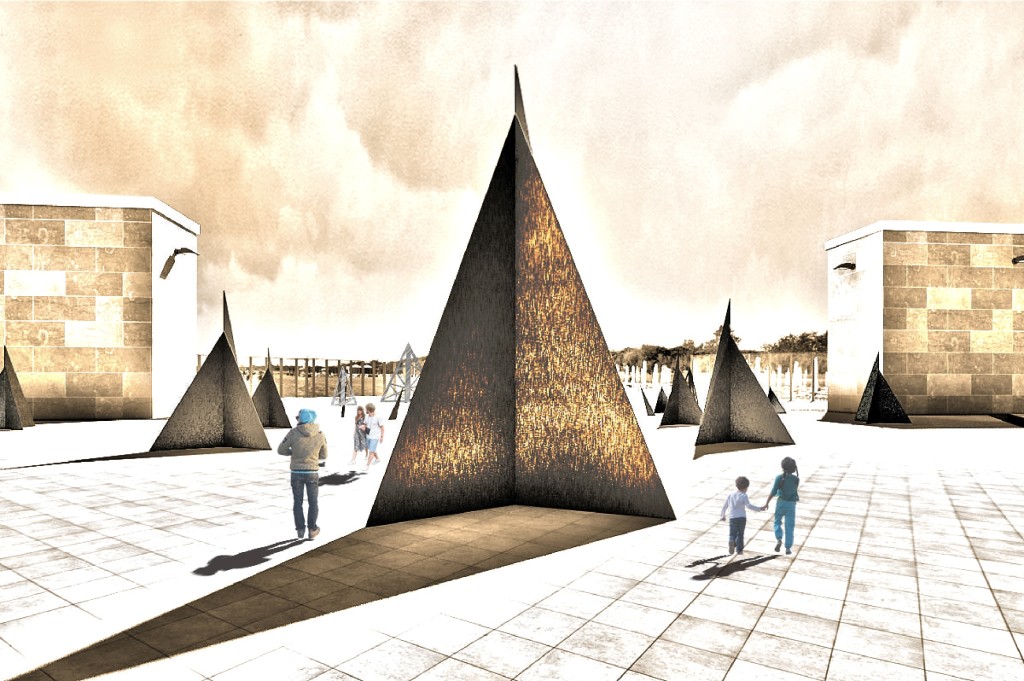 With an economy of means, we attempt to make the passer-by stop and remember the mass murder that occurred in the concentration camps and the individual lives lost.
Please See Holocaust memorial page 
"And the Dust returneth to the earth as it was, and the spirit returneth unto the Divine who gave it". –Eccesiastes 12:7
"Memory is the scribe of the soul." –Aristotle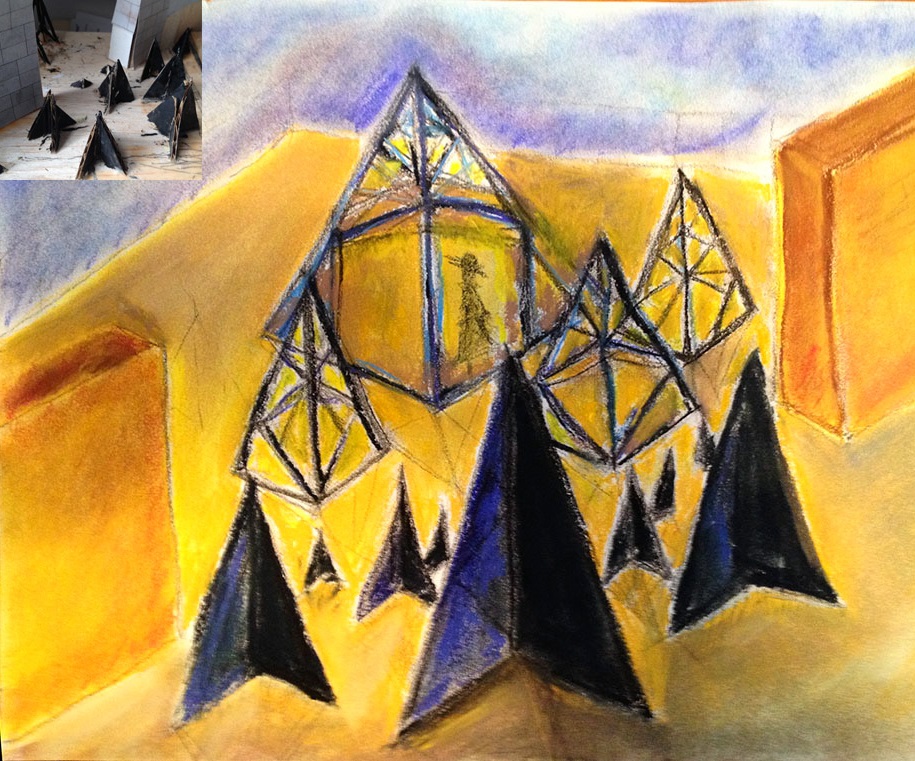 2017
bubble shade citation
Citation at www.futureofshade.com by Architizer and Sunbrella, 2017 (For shop drawings see Bubble Shade category) By Valerie Schweitzer. Visualization by Hacken Li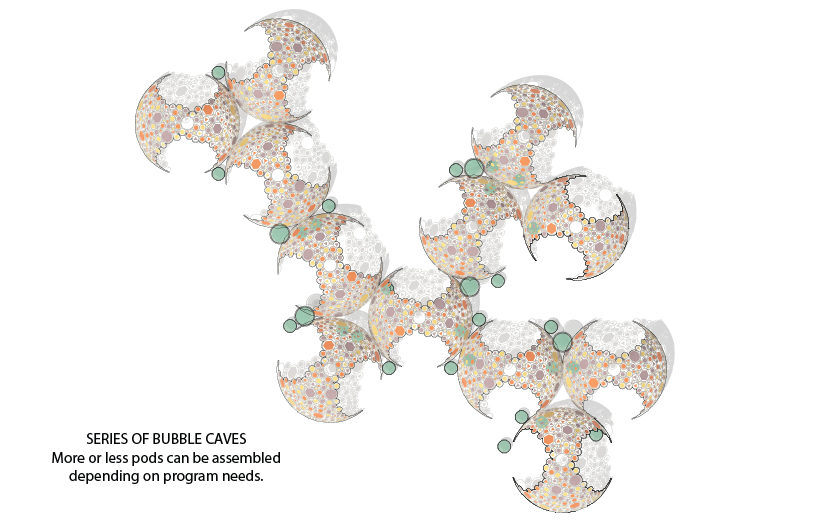 2015
two hollows gate

A gate-like structure marking the new entrance for Folkets Park in Sweden, encourages city dwellers to appreciate the marvels of nature while lounging and gazing.  By Valerie F. Schweitzer AIA (2016)
Two Hollows allows for the gathering of park-goers on its playful steps and internal chambers, that couple as exhibition space. The two wood structures resemble the often overlooked but marvelous tree trunk, even mimicking its shedding of bark and regrowth. (wood is one of the most sustainable of building materials in Sweden). Nine feet wide in diameter each hollow lends itself to fun exhibitions that can hold several viewers at a time. The wood rings encase steel c-channels which provide rigidity to the frame.
2008
Architectural Digest Open Auditions –winner
Master Architecture Prize, 2017
Archdaly nomination for best small building, 2019
German Design Council nomination, 2018