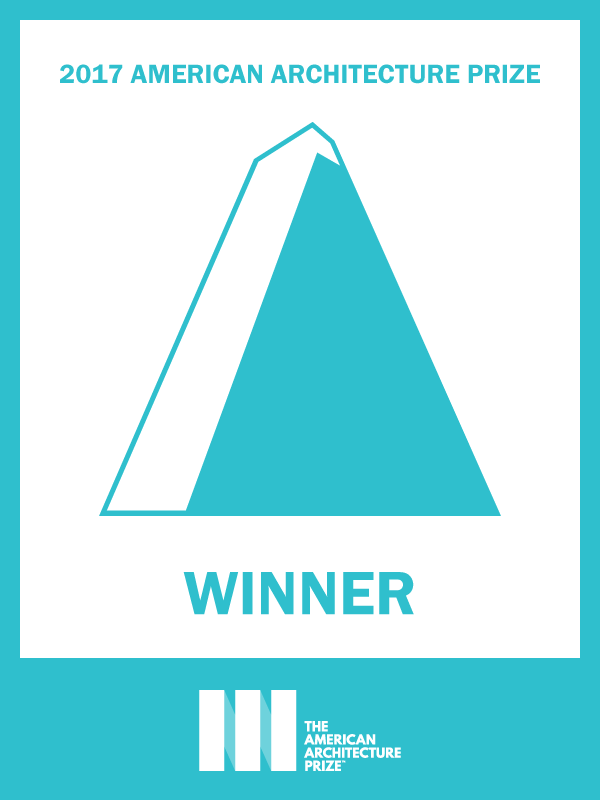 The Tides Brentwood selected for a feature by berlogos.ru, a Russian architecture site.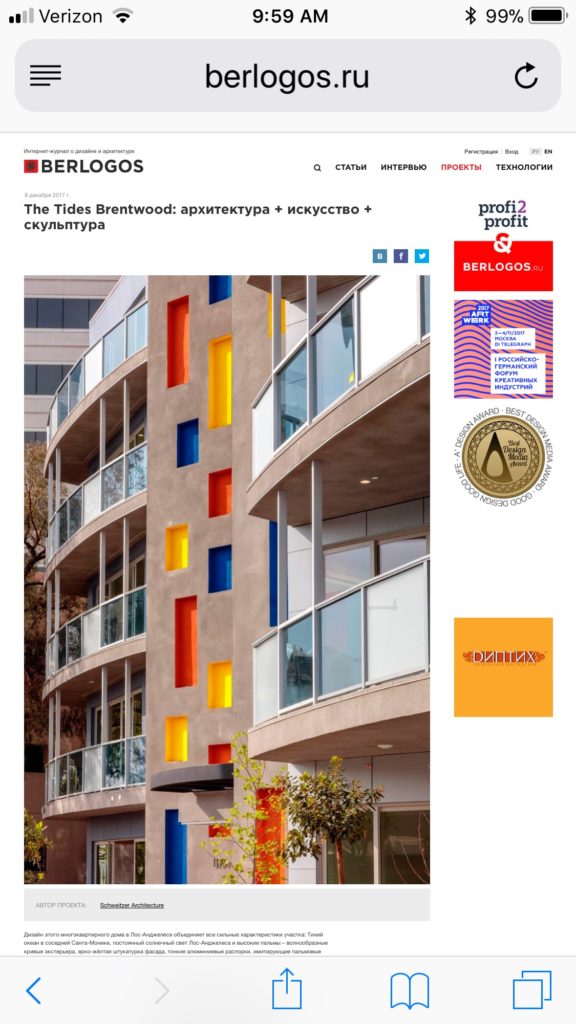 www.DESIGNGENIE.com  Mumbai based website has published the Tides brentwood, December, 2017
https://shar.es/1MO1tY
October, 2017
Valerie Schweitzer AIA  wins the American Architecture Prize in small architecture category, for her 350 sq ft art studio, designed in 2008. Butterfly Studio.  (See Westport Studio)
https://architectureprize.com/winners/winner.php?id=3232
Publications in 2017-2018: e-architect; designboom (selected by founder and editor-in-chief Burgit Lohmann); inhabitat; world-architects.com; world architecture news (WAN); 88designbox; roof.com; Le Figaro  and over 8 other countries, including South Korea and the Czech Republic.
BUTTERFLY STUDIO
Prize
 Winner in Architectural Design / Small Architecture
Firm Location 
New York, United States
Company 
Valerie Schweitzer
Lead Designer
Valerie Schweitzer AIA
Design Team
 Valerie Schweitzer, All Phase construction (Bridgeport Ct)
Published in over 10 countries worldwide including:
designboom by editor-in chief, Burgit Lohmann;
e-architect (united kingdom); inhabitat; world-architects.com (usa); roof.com (portugal); 88designbox (spain); dexinger
Living Wall, West Los Angeles
Plants and people occupy luminous cavities built into a stucco-clad wall. Made of pressure-treated wood studs, plywood and stucco. Drip irrigation for drought-tolerant plants saves water.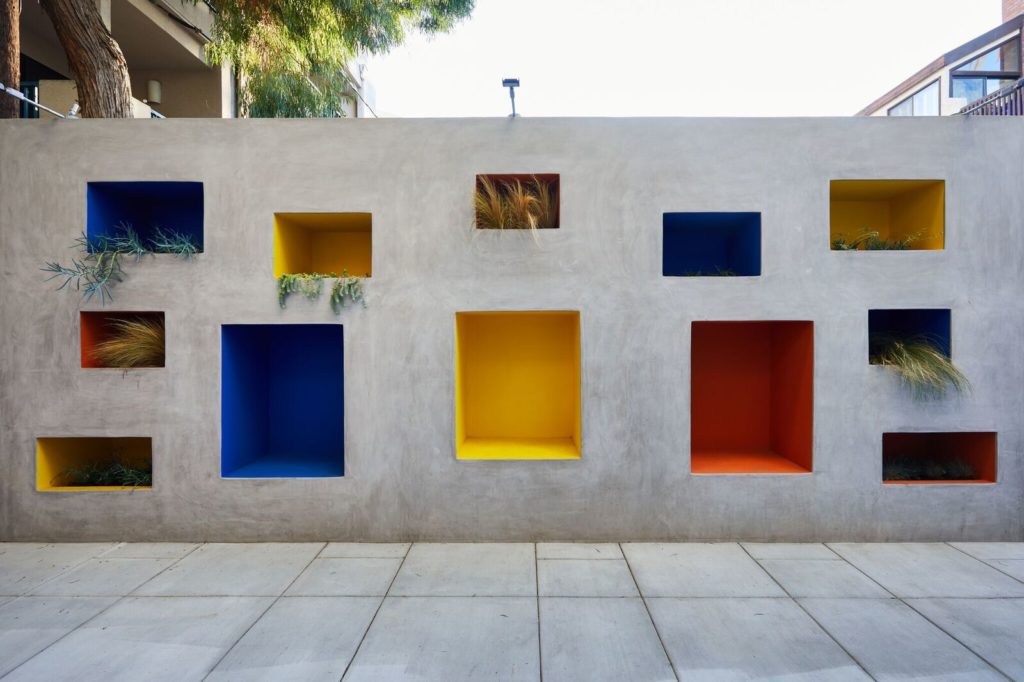 This shade-giving wall borders the rear courtyard of the completed Tides Brentwood apartment building in LA. The tableau challenges our notion of where painting and sculpture end, and architecture begins.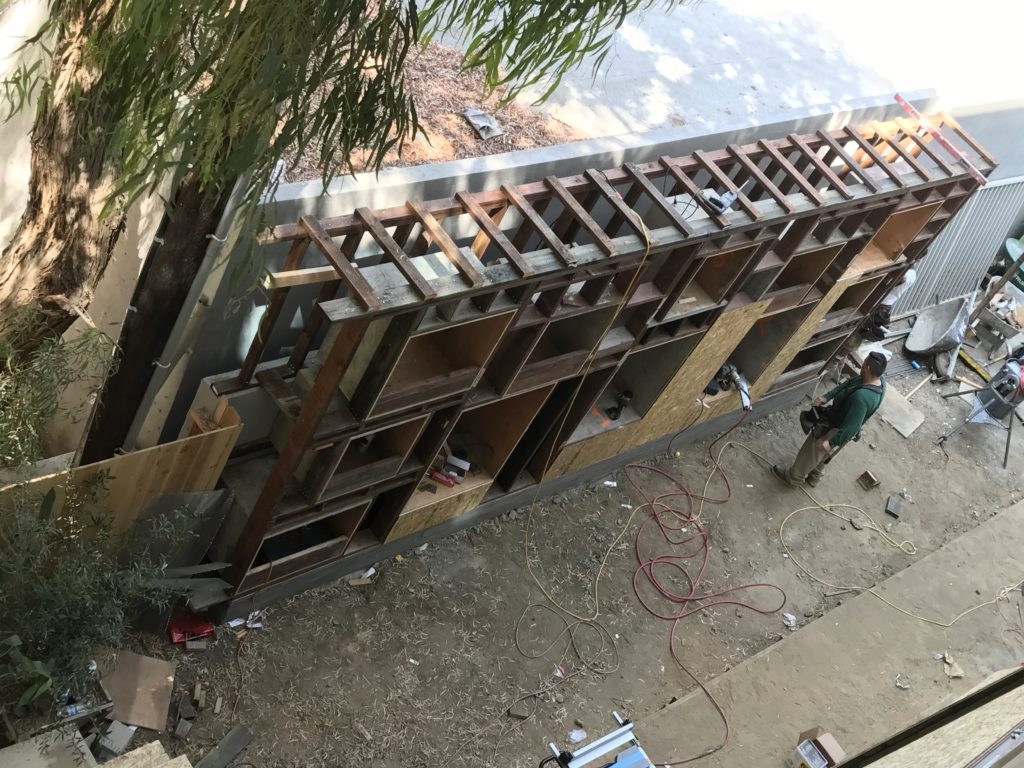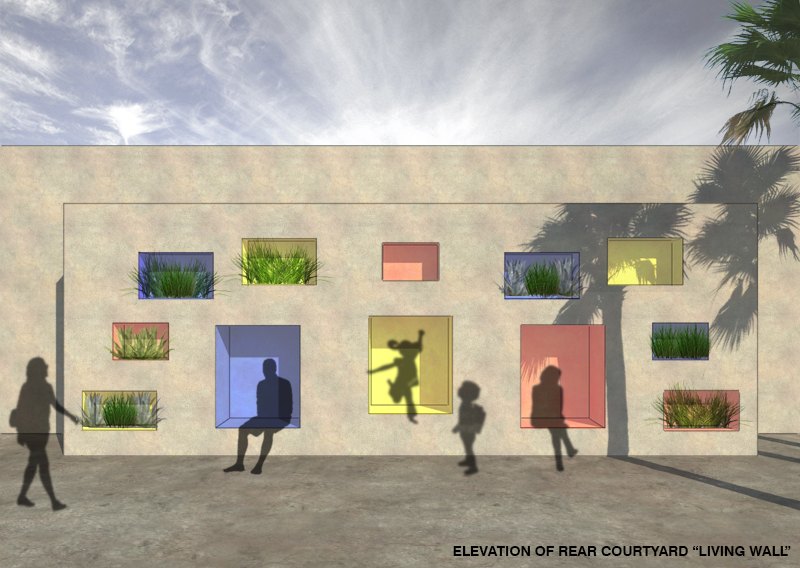 Interiors of the tenant lounge at The Tides, 1157 South Bundy Drive< LA, CA
Art and interior furnishings also by architect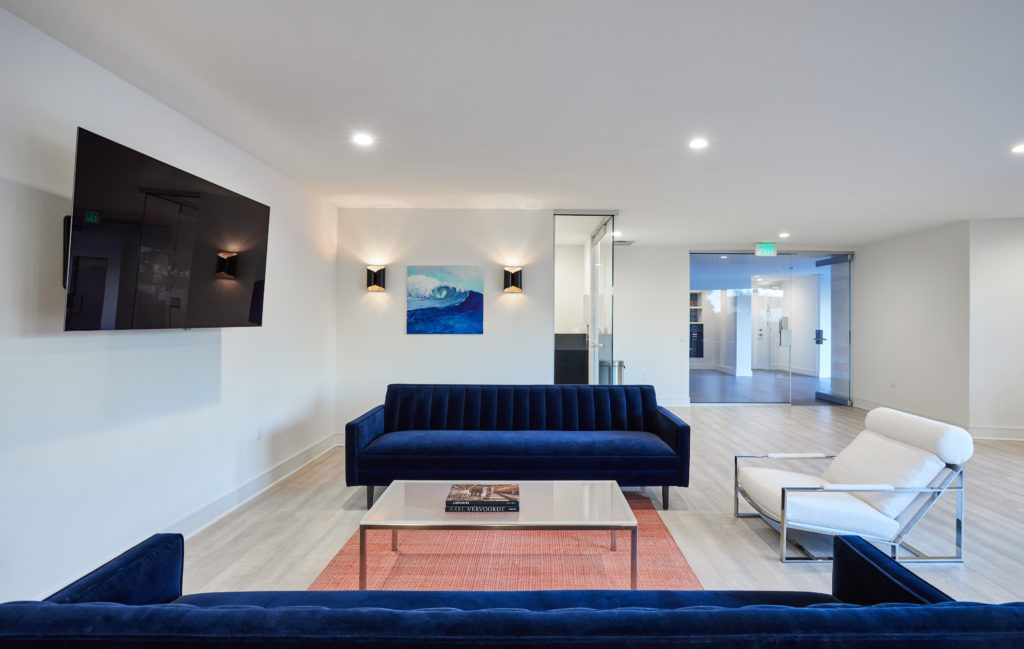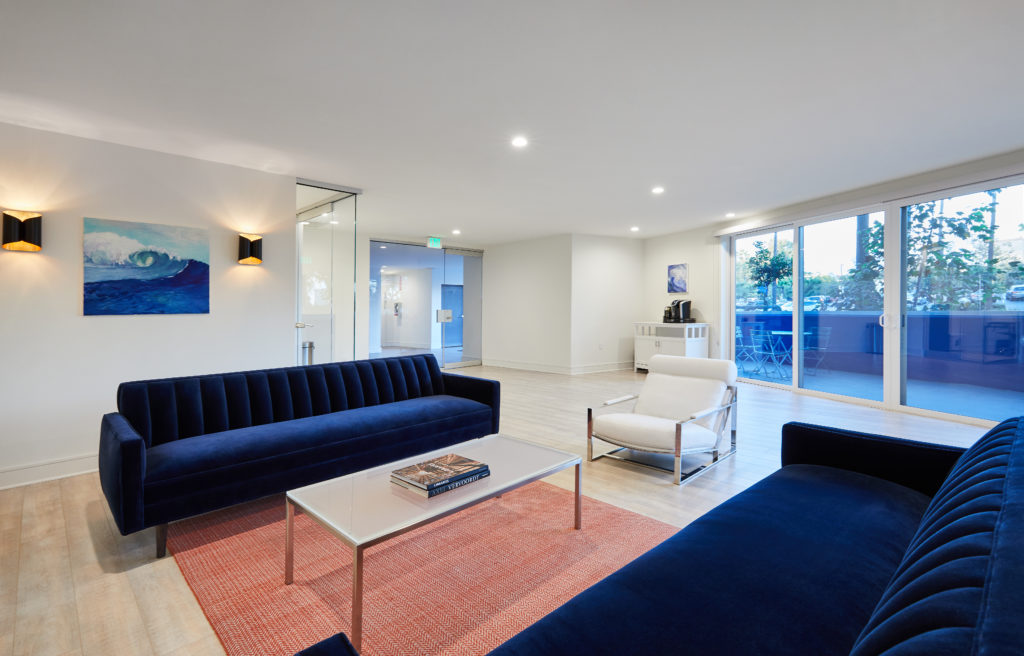 3861 Vinton Avenue, Culver City adjacent, Los Angeles
Across from the Sony Studios in Los Angeles, a neighborhood undergoing revitalization, a renovation of the facade on developer's budget:
Before: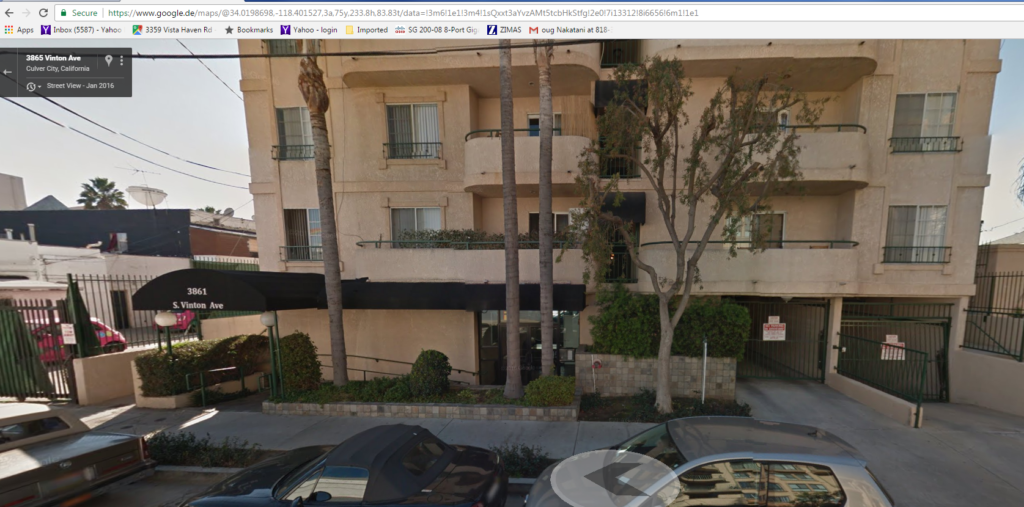 3–Bubble Shade
Given a citation for the competition sponsored by Architizer, at www.futureofshade2017.com
VSA is currently in dialog with the NYC Parks  specifications department to install this low-maintenance, module, shading device in one of the city's sprawling parks in need of summer shade. Shop drawings may be found under "bubble shade" category.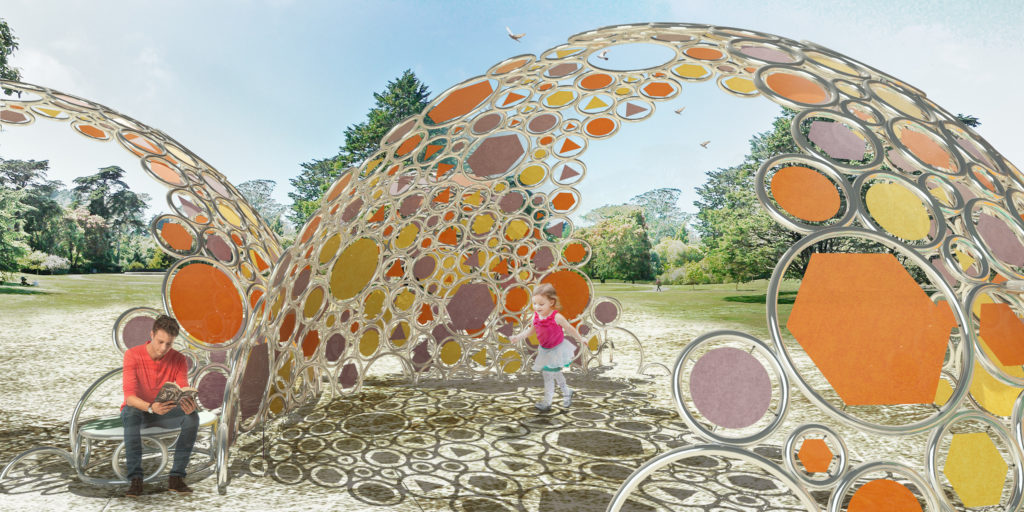 January 2018–initial site studies and concepts for a church-owned property adjacent the Presbyterian St. John's Cathedral, blocks from USC campus in L.A. This 5 story structure fronts the freeway, so the concept is to insert niches of landscaped courts, to let light in, and oxygenate the spaces, while eliminating the need for windows on the first 3 stories of commercial, recreational and residential space.  Parking at base has large apertures to see the church beyond, from Flower Street.